Faringdon's Lord Berners honoured with blue plaque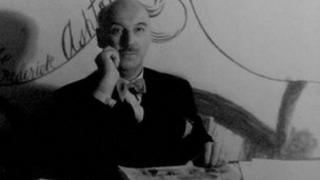 An eccentric lord and avant-garde composer has been commemorated with a blue plaque.
Gerald Hugh Tyrwhitt-Wilson, 14th Baron Berners who lived at Faringdon House, Oxfordshire, wrote orchestral pieces, opera and ballet scores.
The Oxfordshire Blue Plaques Board unveiled a plaque at Lord Berners' 32m (104ft) tower, Faringdon Folly, in woodland in the grounds of the house.
He died at the house on 19 April 1950 aged 67.
Lord Berners had a celebrity circle of friends including Salvador Dali, Siegfried Sassoon, HG Wells, Gertrude Stein and John Betjeman.
Pet giraffe
He was renowned for his extravagant entertaining where he would surprise his guests with themed parties including blue food and pink dyed pigeons.
He also had a pet giraffe which would eat tea with him in the drawing room of the house.
The tower, which was left to his companion Robert Heber-Percy, is now maintained by the Faringdon Folly Tower Trust.
Dr Sofka Zinovieff, granddaughter of Robert Heber-Percy unveiled the blue plaque.