RAF Bicester airfield to become heritage business park
30 March 2013

From the section

Oxford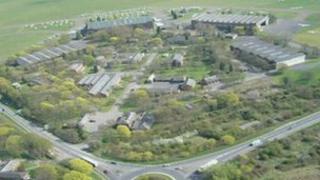 The former RAF Bicester airfield is to become home to a business park dedicated to motoring and aviation.
The Ministry of Defence (MoD) site was home to RAF Bomber Command in World War II and became redundant in 2004. It was put up for sale last year.
Bicester Heritage Limited will operate the site after they submitted a bid alongside three other organisations, including Bomber Command Heritage who wanted to preserve the base as a museum to Bomber Command.
Managing director Daniel Geoghegan said: "We believe there'll be plenty of interest and community involvement potential on the site.
"We have a five-year development plan and we're looking to kickstart phase one by the summer. It's a large site and we need to be thoughtful and methodical about how it's developed."
He said facilities on the site would be leased out to businesses and organisations working in the heritage and specialist engineering sectors.
The Bomber Command Heritage charity had wanted to take over the entire site as a museum to remember the role played by RAF bomber crews during World War II.
Spokesman Dean Overton said he was "disappointed" at the decision.
"The full story of Bomber Command needs to be told. To give this cause the full respect it needs, it requires a whole site.
"We're a little bit suspect this whole concept can work. It could fall at the first fence."
Mr Geoghegan said discussions would continue with the group regarding its involvement on the site.
He added that the airfield's history was "core to our plan" and the heritage sector was proving to be resilient in the current economic climate.
Cherwell District Council and other key stakeholders are expected to be involved in discussions on how to blend the site in with the community.
Amended 30 March to make it clear that it is a heritage business park that is being planned.