Oxfordshire County Council wants Met Office 'discount' over snow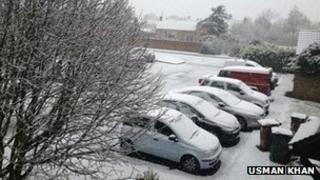 Oxfordshire County Council plans to ask the Met Office for a "discount" after unexpected snowfall in the county on Sunday.
Deputy leader, councillor Rodney Rose, said the authority pays the forecaster about £18,000 each year for weather predictions.
He said no warnings were given in the overnight forecast for snow.
The Met Office said on average its forecasts are correct about 90% of the time.
On Sunday the Met Office issued a yellow warning at 03:00 GMT, which included parts of south-west Oxfordshire and was extended to include the whole of the county from 08:30 GMT.
Mr Rose said: "I might be asking for a discount because they got it wrong.
"I think they [the Met Office] get it right most of the time, I think we on their advice get it right most of the time - with something like the weather involved what more can we expect to do."
He said the council's own road sensors alerted staff to the snow on Sunday and gritters were eventually sent out, but not in time to stop a number of crashes across the county.
In a statement the Met Office said: "Met Office OpenRoad services are right most of the time, on average around 90% of the time.
"We will continue to work closely with the council and its contractors to ensure we provide them with the best possible weather forecasts for their winter maintenance operations."