Heythrop Hunt banned from National Trust land
7 February 2013

From the section

Oxford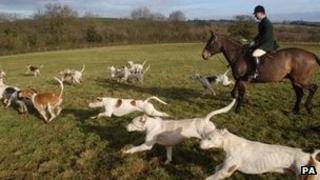 An Oxfordshire hunt has been banned from using National Trust land after two of its members were convicted of illegal fox hunting.
The Chipping Norton-based Heythrop Hunt will not have its licence to trail hunt on land in Oxfordshire and Gloucestershire renewed in the spring.
In December, Richard Sumner and Julian Barnfield admitted unlawfully hunting a wild fox with dogs.
The hunt said it had noted the trust's concerns and was in talks with it.
All of the hunt's rides are currently suspended following an outbreak of equine herpes. Four of its horses at one yard tested positive for the potentially fatal virus.
'Serious breach'
A National Trust spokesman said: "Whilst the illegal activity in this case did not take place on land we own, we consider it to be a serious breach of trust.
"The conviction has given us major cause for concern about how the hunt runs its activities."
The National Trust has spoken to the hunt and followed up its decision in writing.
The spokesman added: "The hunt will need to work closely with our local teams to rebuild our confidence in how they run their activities before we can consider an application to renew their trail hunting licence."
Tracy Casstles, from the Countryside Alliance and representing the hunt, said: "The Heythrop Hunt has reviewed its procedures since the case.
"Hunting days are now being managed by different individuals than those prosecuted.
"We have noted the National Trust's concerns and are in dialogue with them and hope to be able to return to hunting under licence on those areas of National Trust land."
Prime Minister David Cameron rode with the hunt on six occasions before the change in legislation.