Prince Charles visits Said Business School and St Stephen's House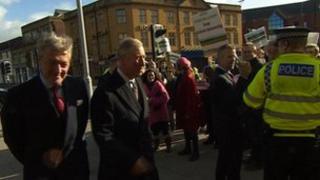 Prince Charles has opened a new wing at Oxford's Said Business School and visited St Stephen's House.
The Prince of Wales met Oxford University students, staff and supporters of the school before unveiling a plaque.
About 30 campaigners were present to protest against new student building developments.
Toby Porter, from the Campaign to Protect Port Meadow, said the prince could have a "decisive influence".
"Prince Charles' views on architecture are always listened to and always respected," he added.
At St Stephen's House, the prince spoke to people training to be ministers in the Church of England.
The Grade I-listed church is currently being conserved by local craftsmen.