Oxfordshire community energy scheme moves to dual fuel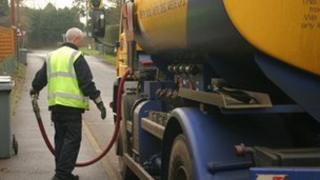 A scheme offering low-cost heating oil to people in Oxfordshire's rural communities has branched out to offer electricity.
Hundreds of households unable to take advantage of dual fuel discounts from energy suppliers because they are not on mains gas will benefit.
Oxfordshire Rural Community Council (ORCC) helped start the initiative in November 2010 to generate more income.
The dual fuel deal is available to any household without access to mains gas.
Customers who sign up can bulk buy their heating oil and electricity together in a package.
Chris Pomfret, from Rural Dual Fuel, started the project with a few of his neighbours in the village of Wooton-By-Woodstock two years ago.
The new dual fuel package will also be piloted in the village.
He said: "The dual fuel concept David Cameron is currently urging energy suppliers to offer customers is completely irrelevant to people who live without mains gas.
'Large saving'
"They simply cannot access those discounts.
"We have managed to negotiate a package that creates quite a large saving.
"The company we are using are not going to put up their prices until at least the New Year, so it's a good time for people to switch."
The supplier will also allow customers to sign up to a loyalty scheme and use energy-saving devices.
Linda Watson, ORCC chief executive, said she believed it would save many households money in the long term.
She said: "People in rural areas often use more fuel and it can be very difficult to manage if your income is stretched.
"A lot of oil suppliers currently have a loyalty rate which is often higher than the standard rate.
"That seems very unfair when people are trying hard to manage their budget in an effective way."