Vampire film link to abandoned wolf-like dogs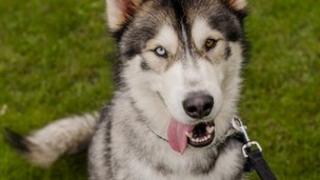 Vampire-themed films and TV shows may be to blame for an increase in wolf-like dogs bought and then abandoned, an Oxfordshire charity has said.
The Blue Cross has released figures showing a five-fold rise in some breeds being handed to their centres.
In the first six months of the year 43 needed rehoming, compared with 15 in the same period of 2011.
Wolves have played a prominent part in recent films Breaking Dawn and The Grey, and TV series True Blood.
"The fashion for vampire-themed TV series and films may be a feature of their increasing popularity," the charity said.
'Rocketing trend'
The Alaskan malamute, Siberian husky and Utonagon are particularly popular because of their wolf-like appearance, and are putting "extra strain" on the animal charity.
It said that while the actual numbers were relatively small, the overall trend was "rocketing".
Animal behaviourist Claire Stallard said: "These beautiful and distinctive breeds have become fashionable over the years, but unfortunately they may be chosen on their looks alone.
"If not given enough exercise, these dogs can become extremely frustrated which may manifest in all manner of problem behaviours.
"This is why we urge people to do lots of research before taking on any dog, to find a breed that is suitable to your living conditions and lifestyle."
A recent addition to the rehoming centre in Burford, Oxfordshire, is Blue.
Centre manager Aly Jones said the distinctive Alaskan malamute, which has one blue eye and one brown eye, had a "great personality".
"He needs someone who can invest the time to take him on daily long walks to keep him happy and healthy" she added.