Hercules noise complaints up at RAF Brize Norton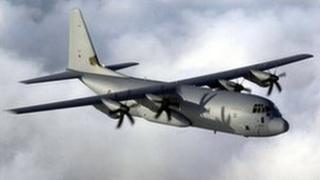 The number of public complaints about RAF Brize Norton has increased 40-fold since the entire Hercules fleet moved to the Oxfordshire base.
The BBC has learned there were 958 complaints from July 2011 to June 2012, up from 23 in the previous 12 months.
Thirty three four-engine Hercules have been based at Brize Norton since RAF Lyneham in Wiltshire closed.
The MoD said: "There is a problem with the level of noise experienced by residents... we very much regret this".
It added: "We are concerned both that the noise of operations at RAF Brize Norton is creating serious disturbance for local residents in the vicinity of the station, and the number of complaints that we have received.
"This is a complex issue for which there is no simple answer."
'Totally unacceptable'
In response to a Freedom of Information request, the RAF said 896 of the complaints involved the transporters.
Among the 958 complaints recorded, 436 related to noise, 293 to ground running of engines and 87 to low flying.
The Hercules fleet officially relocated from RAF Lyneham to RAF Brize Norton on 6 July 2011, although Hercules aircraft were operating between the two stations from 22 June of that year.
Rebecca Whiteman, who lives in nearby village Black Bourton, said the noise, including ground running engines during the night, was "totally unacceptable".
She said: "We appreciate it is defence and we knew the Hercules were coming but there was no warning about the noise."
Ms Whiteman, who has lived in the village for 14 years, said the noise was "very different" from that of jets taking off and landing to which locals were used.
The MoD said it was seeking solutions to lessen the impact on residents.
A spokesman said: "Whilst we always strive to be good neighbours with the local community, and are looking for solutions to attenuate the worst of the Hercules noise during ground runs, it is a fact that certain levels of noise will always be present in the community, as we undertake our operational tasks."
The MoD is due to conduct a "noise survey" to "better understand the issue". The results are expected to be released in mid-August.