Oxfordshire solar farm share sale raises £2.5m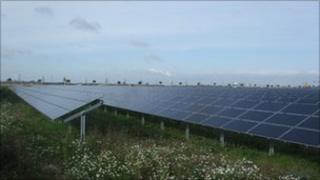 A co-operative behind a 30-acre solar farm in Oxfordshire has raised £2.5m in a share option scheme needed to enable it to buy the site.
Westmill Solar near Watchfield was built quickly using private money to take advantage of favourable government incentives.
But the company has the option to buy back the £16m project.
The £2.5m is the minimum it needs to secure a bond to finance the rest of the debt.
Although it has met this target shares can still be purchased until 31 July.
The farm has 20,000 solar panels and has already been in operation for about a year.
'Fantastic endorsement'
It benefits from the high rate of Feed-in-Tariff subsidies introduced in 2011.
These enable people who install solar panels to get rebates for the electricity they put back into the grid and are guaranteed by the government for the next 24 years.
Westmill Solar now has about 670 investors and 60% of them are based within 25 miles (40km) of the farm.
Many have invested the minimum amount of £250 to become shareholders, with fewer investing sums closer to the limit of £20,000.
Project manager, Frank Gordon, said that meeting the £2.5m figure was an important milestone for the project.
He added: "It represents a fantastic endorsement of community energy projects and goes someway to reflecting the wider benefits that these can bring."
The charity has until the end of October to secure a bond and buy back the development.