Oxford Covered Market traders angry over rent increases
18 July 2012

From the section

Oxford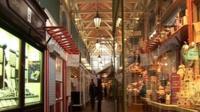 Traders at an independent market in Oxford have complained about rent increases proposed by the city council.
Some of the traders face increases over the next five years of more than 70%.
Leader of the council Bob Price said the figures were just the start of the process and would form the basis of negotiations.
He said the council had offered to negotiate first, but traders had wanted to know the market figure beforehand.
There are more than 50 independent shops in the Covered Market in the city centre.
The proposed rent increases are part of a review that takes place every five years. They have been determined using a method devised by an independent arbitrator.
The Ansari clothes shop, currently paying £19,500 a year, has now been asked to pay £30,500 - an increase of 56%.
John Gowing, from a jewellers in business since 1946, said he was facing a rent hike of 66%.
He said that the increase "beggared belief" given the current financial climate.
He added: "I think it threatens the covered market as an institution. Everybody is facing these huge rent demands."
The chairman of the tenant association, Chris Farren, said that the level of increase was not justified.
He said it meant business were not sustainable. There been an 11% decrease in footfall in the last 10 years, and traders were facing 40% rate increases on top of the extra rent demand, Mr Farren said.
Mr Price said the proposal was a "benchmark", and he hoped to resolve the matter with the traders and their agent as soon as possible.
He added: "We see [the market] as a very important part of the city and we will work with them to ensure that remains the case."