SugarNet tackles Oxfordshire's rural broadband speeds
29 June 2012

From the section

Oxford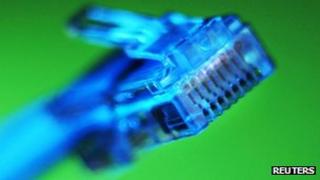 Three Oxfordshire businessmen have teamed up to form an internet service provider (ISP) firm because of slow connections in their area.
SugarNet has installed small masts in the north of the county to create a new network.
Founder Oliver Helm, 24, said: "We had become so frustrated with the big companies' unfulfilled promises and our unworkable internet speeds".
It is hoped the project will have a positive impact on rural communities.
Mr Helm added: "We decided to take the bull by the horns and create the solution ourselves.
"Crippling speeds make it very difficult for businesses to grow, particularly now that everything is going online, and it makes them look to move to places where they don't have that issue."
The company claims that in some cases the new connections have jumped from about 0.2Mbps to 300Mbps, though the usual packages they offer are for 5Mbps, 10Mbps and 20Mbps.
Margaret Coles, a freelance bookkeeper from Shenington, joined the service after it was suggested to her by a local farmer.
She said: "It got to the point where I was getting desperate because we'd be trying to do things and it would just slow me down and take an hour to do something that should take 10 minutes."
'Considerably faster'
SugarNet started up in February when Mr Oliver and Andrew Heron, founders of a web marketing company, joined forces with Toby Nunneley, the manager of Sugarswell Business Park.
It now has 20 full or part-time employees.
Andrew Ferguson from Thinkbroadband said the company offered a viable alternative for businesses.
He added: "You go with your BTs and your Talk Talks and they'll do it for free or £20, [whereas] with these guys they're looking at £169 for the set up.
"But then again you're looking at a service that is considerably faster than what you can get now."
Oxfordshire County Council said it was spending £3.86m on improving broadband services in the county.
A spokesman said: "It will help deliver broadband speeds of up to 24Mbps to wide areas of the county and significant improvements to the rest.
"The focus will be on areas where next-generation broadband wouldn't necessarily be provided by the private sector alone."
Ed Vaizey, Conservative MP for Wantage and the minister in charge of the national broadband rollout, said: "We want to ensure that we can get a subsidy out to areas where it's not economic to provide broadband.
"There is a three-year programme and we've pledged to deliver super-fast broadband to the whole of the country by 2015."