Bee Gee Robin Gibb's funeral to be held in Thame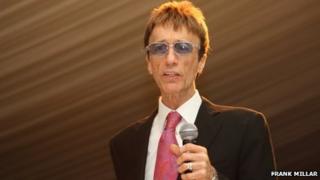 Fans will be able to pay their respects to Robin Gibb when his funeral carriage travels through the Oxfordshire town he made his home on Friday.
The singer lived in Thame and his family said his "wish" was to say a "final goodbye" to fans and the town.
Gibb's glass-sided carriage, drawn by four horses, will travel through the town at about 13:30 BST on Friday.
The singer died from kidney failure last month after suffering from cancer and pneumonia.
The carriage will leave from Priests End and travel along the High Street to the town hall.
It will then return through the High Street to St Mary's Church where a private family service will be held.
Gibb's music will form a part of the service.
His son RJ said the Bee Gees hit I Started A Joke will be played at the church.
The track Don't Cry Alone, which is one of Gibb's final compositions from his Titanic Requiem - premiered only weeks before his death - will also be played.