Oxford University students warned 'no pyjamas in hall'
15 May 2012

From the section

Oxford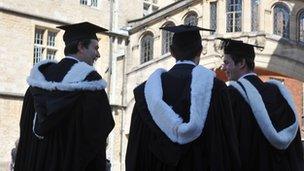 Oxford University students have been warned to end the "slovenly practice" of eating breakfast in pyjamas in their dining hall.
The reprimand was set out in laminated notices entitled "Hall Manners" around Brasenose College.
"This practice evinces a failure to distinguish between public and private spaces in college", it stated.
Martha Mackenzie, president of Oxford University Students' Union, said formal traditions could be taken too far.
She told the BBC: "It's quite funny really. Some colleges are more strict than others.
"For students, the colleges become their homes over the three years that they're there, so that's why you can begin to see a more informal approach as they become more relaxed.
"Traditions are an important part of Oxford life, but the most important thing is that it doesn't infringe on the students' work."
'Raising concerns'
The notice reads: "There is a clear distinction between night wear (private) and day wear (public).
"I trust that this slovenly practice will cease forthwith."
It also reminded students not to be late for dining times and that "formal gowns" should be worn at formal dinners.
The university said that although the Dean of Brasenose College had raised concerns about pyjamas last year, there was no "official" policy to ban pyjamas.
A spokesperson said: "There are no plans to introduce any sort of policy of this nature. The college has no further comment."
Previous Brasenose students have included writers William Golding and John Buchan, and Prime Minister David Cameron.