Cow stampede 'caused Oxford train crash'
10 May 2012

From the section

Oxford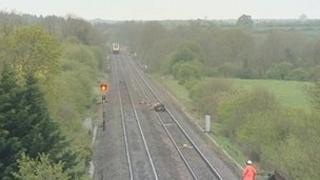 A train hit a herd of cows after the animals stampeded through a fence, Network Rail has said.
The Crosscountry Trains service hit the animals near Tackley, Oxfordshire, on Wednesday.
Network Rail said it was believed the cows broke through the fence - which it maintains - but said it had no plans to compensate the farmer.
John East, another farmer who operates nearby, told the BBC that Network Rail did not properly maintain its fences.
"It takes something like this to happen to get something done quickly," he said.
But a Network Rail spokesman insisted the fences were regularly inspected.
'Absolutely terrified'
"There's nothing you can do if animals decide to stampede," he said.
The line was closed between Oxford and Banbury and the train and its 200 passengers were stranded for about four hours. No-one was injured.
Network Rail faces having to pay compensation to those on the train, or those affected by the disruption, a sum which could amount to tens of thousands of pounds.
Passenger Felix Medd told the BBC: "All of a sudden the whole thing shuddered uncontrollably. I have to say my first thought was that we would go off the track.
"I was absolutely terrified."
Another passenger, Luke Spiller, said: "It was strange and really surreal. You could hear everyone going silent and holding their breath."