Oxford man charged with further child prostitution offences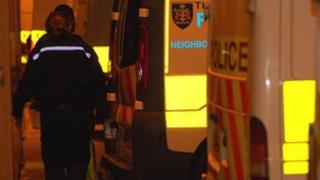 A man has been charged with further offences in connection with an alleged child prostitution ring in Oxford.
Kamar Jamil, 26, of Aldrich Road, Oxford, faces two more counts of raping a child, trafficking and sexual activity in the presence of a child.
A total of 16 people have been arrested as part of Operation Bullfinch, an investigation into alleged child sex trafficking involving 50 girls.
Mr Jamil and five other men have been charged with various offences.
They remain in custody and are due before Amersham Crown Court on 22 June.
Raided 14 properties
Mr Jamil has already been charged with four counts of rape and two counts of arranging the prostitution of a child.
Mr Jamil is also accused of threats to kill and cocaine possession with intent to supply.
Police arrested 16 people during 14 raids in Oxford on 22 March.
Nine other men remain on police bail and one woman has been released without charge.
Mohammed Karrar, 37, of Cowley Road, Oxford, is charged with raping a child, conspiracy to rape, supplying drugs, procuring abortion, child prostitution, assault, trafficking and multiple rape charges.
His brother Bassam Karrar, 32, of no fixed address, is charged with raping a child, child prostitution, trafficking and multiple rape charges.
The other three men facing charges are Anjum Dogar, 30, and his brother Akhtar, 31, both of Tawney Street, and Zeeshan Ahmed, 26, of Palmer Road.