Michael Foley funeral: Soldier shot by Afghan serviceman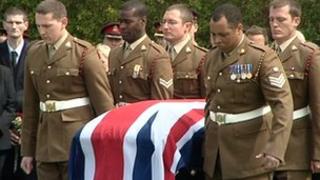 The funeral of a soldier shot in Afghanistan has been held in Didcot, Oxfordshire.
L/Cpl Michael Foley, 25, from the Adjutant General's Corps, was one of two servicemen shot dead by a rogue Afghan soldier last month.
Burnley-born L/Cpl Foley served much of his military career at Dalton Barracks near Abingdon.
He leaves behind his wife Sophie and three young sons, Calum, Warren and Jake.
Speaking after the private service, Brigadier Paul Burns called him a "great role model".
"He was an excellent character. He had a great sense of humour and lots of strong professional attributes which made him a very well respected part of the team," he added.
L/Cpl Foley was shot dead alongside Dorset Royal Marine, Sgt Luke Taylor, from Bournemouth.
The men were killed by a member of the Afghan National Army on 26 March at the main entrance to the UK headquarters at Lashkar Gar in Helmand Province.
The shootings came in a string of "green on blue" attacks, in which members of the Afghan security forces have opened fire on international allies.