Why do the Chinese want part of Thames Water?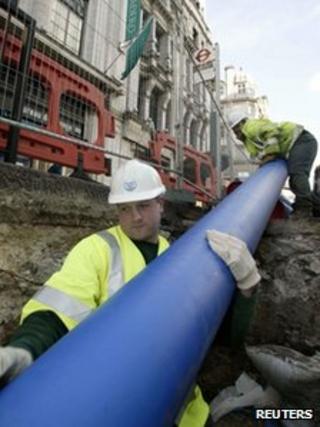 China's sovereign wealth fund has bought an 8.68% stake in the UK's largest water and sewerage company, Thames Water. But what makes a nation want to buy part of a foreign utility company and will this be a good thing for the UK?
"It's an investor looking out for a good investment," says Rana Mitter, Professor of the History and Politics of Modern China at Oxford University.
His view is that China is sitting on a huge national reserve and simply needs to put its money in safe and secure funds.
Thames Water serves about 14 million customers in London, Berkshire, Buckinghamshire, Gloucestershire, Kent, Oxfordshire, Surrey and Wiltshire and that makes it an attractive proposition.
The university's development specialist Dr Xiaolan Fu said: "We've seen that European government bonds in countries like Italy, Greece and Ireland are looking highly risky whereas public utility companies are good long term investments that aren't subject to excessive competition.
"It is also attractive for the company if it needs the liquidity and is finding it difficult to borrow from anywhere else."
In 2010, the Asia Society published a report indicating Chinese firms will place about $1tn to $2tn in direct investments around the world by 2020. It also said Chinese Foreign Direct Investment would double in size every year until then.
"That translates to endless stories like this," said Dr Karl Gerth, author of As China Goes, So Goes the World: How Chinese Consumers are Transforming Everything.
"This is just the tip of the iceberg and something we have to get used to.
"Countries will be falling over themselves to secure Chinese investment.
"The question is where do we draw the line?
"Not everyone thinks having foreign companies own your water is such a good thing. Politically it could be considered an important asset to control."
There are certainly a significant number of people on Twitter criticising the move.
E. J Gill@suzycoos writes: "In my opinion disgraceful what will be left that's British?"
'Safe sector'
But their concerns are not shared by Dr Fu, she said: "I cannot see an obvious down side to it.
"If China buys up to 30% of the company then there could be concern about the level of control but taking an 8.68% share won't give them any power in the running of the company.
"China has been talking about investing in European infrastructure for a while and this is a signal that its real interest is in the safe utility sector."
Prof Mitter agrees and said: "Clearly we've heard of Russia using business connections for political purposes and America has penalised countries that deal with Iran.
"But I think in the short to medium term at least, China will be at pains to demonstrate that they are responsible owners."
"In the longer term it will be absolutely necessary for China to open up its own markets if it wants to be recognised as a global power."