Thames Heritage Tapestry unveiled at Ashmolean Museum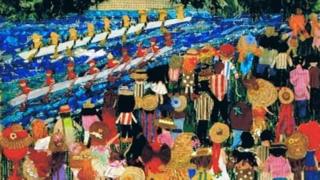 The first glimpse of a giant tapestry made by children from more than 200 schools along the River Thames has been unveiled at Oxford's Ashmolean Museum.
A 3m (9.8ft) by 14m (46ft) portion of the artwork was shown in which 84 of the schools have each contributed a 1m (3.3ft) square canvas.
The Thames Heritage Tapestry project will be completed in time for the London 2012 Olympic and Paralympic Games, by which time it will be 84m (275ft) long.
Organisers intend it to give a "multifaceted portrait of the Thames through the eyes of the children who live along its banks."
Amanda Potter, former governor of Brightwell-cum-Sotwell Primary School in Wallingford said: "We planned it together with the whole school. The children were invited to make designs and drawings to represent our school, our area and environment.
"They talked about Wittenham Clumps, the swimming pool in Wallingford, Wallingford Bridge, our school emblem, the hot air balloons that fly overhead, the helicopters from RAF Benson, the red kites, and obviously the river."
'Positive life changes'
Lottie, 10, created the image of a kayaker.
She said: "I sewed him onto the river with lots of different colours and I made him a paddle.
"We cut out the pieces, then sewed it together and stuck it on."
Emma, 8, explained her part in the project: "I did a tree with brown and green felt, and then I did part of the river with wool.
"Our part has buildings at the side, a river, a swimming pool, and lots of trees."
An estimated 50,000 children have worked on the tapestry.
Dr Christopher Brown, director of the Ashmolean Museum, called the project "an extraordinary collaborative achievement".
It has been awarded the Inspire Mark by the London Organising Committee of the Olympic and Paralympic Games.
Lord Sebastian Coe, chair of the committee, said: "The Inspire programme is ensuring the legacy of the 2012 Games starts now as projects like the Thames Heritage Tapestry are enabling children along the Thames to make positive life changes."
The tapestry will be on show at the museum until 11 January. As it grows it will be displayed at further venues including Hampton Court Palace and the Royal Festival Hall in London.
The final venue in which the giant completed artwork will be presented is yet to be decided.