Kidlington Thames Valley Police headquarters approved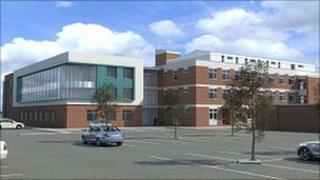 Proposals to build a new £3.7m police headquarters in Kidlington in Oxfordshire have been approved.
The new building is expected to accommodate 180 Thames Valley Police staff and more than 400 vehicles.
It replaces the previous three-storey temporary building, which was demolished in 2008 because it was "beyond economic repair".
Cherwell District Council's approval requires conditions around parking to be resolved.
Nick Harverson, head of corporate support at Thames Valley Police, said: "We are aware of some concerns expressed regarding parking and will be seeking to address these to minimise the impact on our neighbours."