Abingdon firm makes bid to harness River Thames's power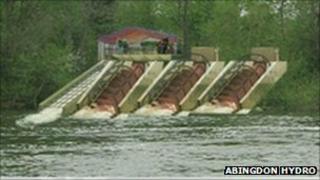 Electricity for the equivalent of 200 homes may be provided in Oxfordshire by harnessing the River Thames's power.
Eco-group Abingdon Hydro, want to install three 10-tonne (10160-kg) hydrodynamic screws at the town's weir, due to its large drop in water level.
As water flows from the top of Abbey Stream into the Thames, it would turn the screws, creating the power.
The water turbines could generate about £120,000 annually by feeding electricity into the national grid.
Richard Riggs, of Abingdon Hydro, said: "[It's] equivalent to about 200 houses, which compared to the size of Abingdon, does not sound like a lot but the point is it's almost indefinite, but the lifetime of these screws is 40 years plus so you're talking about free energy going on and on."
If planning permission is granted, shares in Abingdon Hydro will be sold to raise the £1m it will cost to install.
A similar project is being installed down river at Goring.
The Environment Agency says it is involved in nine other hydro-power schemes on the River Thames.