Windrush Valley Amateur Boxing Club aims to replace flooded centre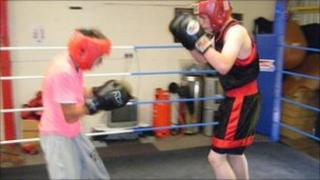 An amateur boxing club that lost its premises in the floods of 2007 has been offered land to put up a new building.
Windrush Valley Amateur Boxing Club has two years to raise the funds to set up a permanent centre on an area owned by West Oxfordshire District Council.
The land chosen is on Witney Artificial Turf Pitch.
The club's secretary, Ann Setch, said: "We will be throwing ourselves full force into raising the fund and really hope we can make it a success."
Richard Langridge, cabinet member for local economy and communities, added: "Setting aside this pocket of land will provide incredible help to the club in opening doors and securing the funding that it needs."
Windrush Valley Amateur Boxing Club aims to raise £300,000 for the new centre.
The club has hired a temporary room at Carterton Football Club since the previous facility in Newland, Witney, was condemned.
It has been running for 34 years and has about 100 members from the age of 8.