Autistic children learn from Oxfordshire dog charity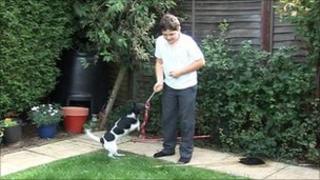 An Oxfordshire charity is running workshops to show how dogs can help calm children with autism.
Dogs for the Disabled, based in Banbury, says it has helped 150 UK families with Parents Autism Workshops and Support (Paws) in the past year.
Suzanne Walker, from Barton, Oxfordshire, bought a dog for her son Joshua following one of the events.
She said it helped put the pet "to the best advantage of our family with a child who has special needs".
Joshua, 11, added: "When I'm stressed I go and see the dog, give her a cuddle and feel much better."
Role models
Joshua has Asperger syndrome, a form of autism, but has learned new life skills since the family bought a Jack Russell called Muri.
He said: "When I go for walks with my dog I get to go out on my own and it helps me to be independent.
"I like playing with the dog and I think she loves me a lot."
Mrs Walker said: "It's got a very calming effect on Joshua and he can communicate with her really well.
"It means he's got a little companion. The care side is important. It's a good skill for any child and he can learn life skills that are outside his own interests."
The workshops are run by animal behaviourist Katie Bristow-Wade.
She told the BBC the dogs were taught specific behaviour such as resting a head on a worried child's lap or lying on the end of a bed to help them sleep.
'Pearls of wisdom'
They also act as role models by having their teeth brushed and hair cut or washed to inspire the child to cooperate.
"We're sharing our pearls of wisdom to the general public with children of autism," Mrs Bristow-Wade added.
Caroline Hattersley, head of information, advice and advocacy at The National Autistic Society, said whilst a dog may help one person it might not be suitable for all.
She added: "People with autism can have sensory issues and may find the noise and smell of a pet overwhelming.
"Looking after a pet can also take time and commitment and may not be possible for all families.
"Some families have reported that their children have responded well to having a pet dog and that it may have helped to improve their behaviour.
"The Paws workshops are an opportunity for families who are interested in getting a pet to access the information they need about the pros and cons of getting a dog, decide whether this is the right choice for them, and learn about the long-term support that is available as they raise their dog."