Oxfordshire charity rolls out heating oil scheme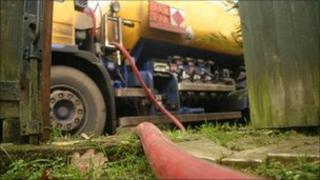 A scheme offering cut-price heating oil has become so successful it is being rolled out across England.
Oxfordshire Rural Community Council (ORCC) set up the bulk-buying scheme in November 2010 to generate extra income.
More than 400 rural households are now buying their fuel oil through ORCC and the charity has begun helping other counties set up their own schemes.
Rural community councils in the Isle of Wight and Nottinghamshire are among the first to be helped by ORCC.
The Isle of Wight scheme launched a week ago and so far has about a dozen members.
Isle of Wight Rural Community Council (IWRCC) chief executive Mike Bulpitt said: "It's a necessary service because of fuel poverty issues - anything that helps drive down the price by a few pennies per litre has to be a good thing."
IWRCC estimates about 5,000 households on the island rely on fuel oil.
ORCC chief executive Linda Watson said: "There are already quite a number of communities that have local syndicates in place.
"What we have done is use that model to scale it up to maximise the buying power in communities."
ORCC set up a trading arm to operate the Oxfordshire scheme and charges members £20 a year to join. It estimates members save about 10p a litre on their fuel costs.
About 30 community co-ordinators take monthly orders from members and pass them back to ORCC who negotiate a price with the oil company.