'Rule threat' to affordable homes in Oxford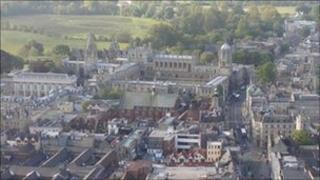 Plans to limit the number of shared properties in Oxford will lead to a lack of affordable homes, an agency has warned.
The city council approved plans to restrict the number of Houses on Multiple Occupation (HMOs) on Monday.
The director of letting agency Finders Keepers, Frank Webster, said it would lead to a lack of affordable houses.
But Labour councillor Colin Cook said the regulations would prevent areas "going to rack and ruin."
From February 2012 only one in every five houses on any 100m (328ft) stretch of road will be allowed to be HMOs.
About one in five people in Oxford live in an HMO, which are homes occupied by three or more unrelated individuals.
Family homes 'lost'
The Labour-controlled council wanted to introduce the rules because certain areas of the city had developed a high concentration of HMO properties.
Mr Cook, who is responsible for city development, said: "We're trying to keep the right balance and not let one particular market get an advantage.
"In areas with too many HMOs you find houses and gardens aren't looked after, there's a loss of family housing in an area and it can put schools in trouble in terms of recruiting numbers."
But Mr Webster said the council had not listened to concerns.
He said: "I don't think it's for Oxford City Council to tell people where they can live in Oxford.
"What you'll see now is certain landlords pull out of that shared market, therefore there will be fewer properties and consequently people will be paying higher rents."
David Cox from the National Landlords Association warned the new rules would particularly affect people on local housing allowances or housing benefits.
"They are going to see themselves being pushed further and further out of the city as landlords take students to let the very small number of properties that are available," he said.
From February, planning permission and £470 licences will also be needed by HMOs in a bid to improve the safety of the premises.