Michael Gove dubbed 'a scoundrel' at Oxford strikers' rally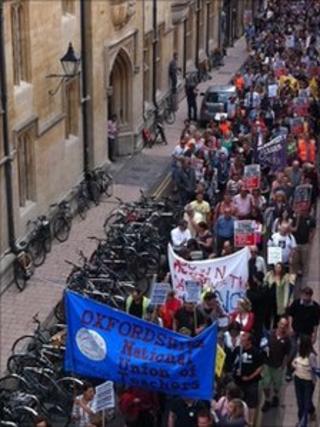 Hundreds of teachers and public sector workers gathered at Oxford Town Hall protesting at future pension changes.
Education Secretary Michael Gove was labelled a "scoundrel" by speaker Alan Whittaker, former president of the University and College Union (UCU).
While more than half of Oxfordshire's schools either closed or partly-closed because of strike action by teachers.
Leader of the Conservative-led county council Keith Mitchell urged strikers to enter talks.
Members of the Association of Teachers and Lecturers (ATL) and the National Union of Teachers (NUT) walked out over planned pension changes.
BBC reporter Tim Bearder said about 600 union members joined a protest at Oxford Town Hall at lunchtime.
Speaker Mr Whittaker, past national president of the UCU, called Mr Gove an "impudent young scoundrel" for suggesting the public would lose respect for teachers because they have gone out on strike.
The Public and Commercial Services Union (PCS) also went on strike and a picket line was set up outside the MoD supply organisation in Arncott, near Bicester.
Job centres, driving test centres and courts were also affected.
There were 48 schools closed in Oxfordshire, 96 partly closed and 146 remained open.
'Regretted' disruption
Ed Finch, a teacher at Larkrise Primary School, east Oxford, joined colleagues on the picket line at Oxford and Cherwell Valley College.
Mr Finch said he "regretted" any disruption to children's education but was left with "little option".
"We're not a profession that's forbidden to strike, we've good reason to strike and we're striking because we're angry," he added.
Members of the Oxfordshire branch of the ATL turned out in Oxford city centre where they dressed in academic gowns and gave talks to members of the public about the issue.
Meanwhile Hinksey Outdoor Pool, Oxford, said it laid on more staff to cope with demand as children spent the day off school.
PCS representative Tracey Rogers, 48, from Cowley, said: "The idea of losing more pay makes me so worried.
"I cannot afford this, I already struggle to make it to pay day".
'Crisis of conscience'
Tony Draper, executive member of the National Association of Head Teachers representing Oxfordshire, said that while his union would not strike, he sympathised with those that were.
"However, we have to weigh up the safety of the children in school and whether it's safe and if we can adequately staff the school," he added.
Council leader Mr Mitchell described the use of strike action as "a bad lesson to our children".
There was also a picket line held at the MoD supply organisation in Arncott, near Bicester, which dispatches equipment to front-line troops in Afghanistan.
Richard Kelsell, Oxfordshire branch secretary of the PCS union, said those on strike had "a crisis of conscience".
He said the members on strike hoped to catch up with all their work when they returned.
"Obviously there will be some disruption but we wouldn't expect lorries not to go out of the depot."