Medieval church ruins found at Rufford Country Park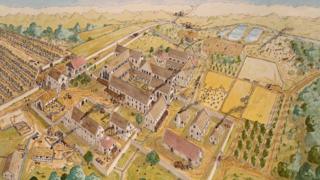 Remains of a medieval church believed to have been destroyed during the Reformation have been uncovered in parkland in Nottinghamshire.
Archaeologists found the church, which dates back to 1160, at Rufford Country Park, near Ollerton.
Experts said the find will help them understand how the nearby Abbey's buildings developed over the years.
Rufford Abbey was badly damaged after Henry VIII was refused a divorce by the Catholic church.
Stripped of value
Emily Gillott, Nottinghamshire County Council's community archaeologist, said: "Uncovering the remains of the original church is momentous.
"The Abbey's role in the Reformation, one of the most controversial and important periods in the country's history, provides added significance to this work."
The Reformation signalled the end for every Catholic monastery in England, which were either demolished or stripped of anything of value.
The excavation work has been helping archaeologists piece together the layout of the Cistercian Abbey's buildings.
A piece of Tudor pottery and two teeth, which are thought to belong to a monk buried there, have been found at the site of the church.