West Bridgford manhole blaze sparks investigation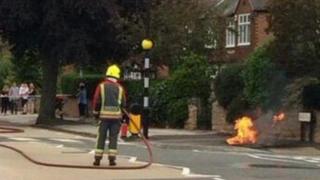 The cause of an underground explosion in a residential street near Nottingham is being investigated.
Fire and electricity crews were called to the junction of Davies Road and Abbey Road in West Bridgford at 17:30 BST.
Residents reported hearing a bang and seeing fire coming from the manhole.
Nottinghamshire Fire and Rescue Service said an underground cable may have caused the blast. There were no reports of any injuries.
Nearby homes were left without power while the incident was dealt with and supplies reconnected.
On Wednesday, a street in central London was closed for several hours after an explosion in a manhole set a parked lorry on fire.