Toton reservists' training centre expansion finished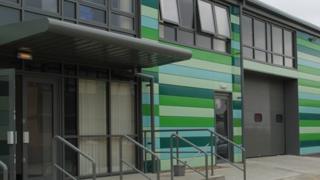 A £1m project to renovate a royal naval and marine reservist training centre in Nottinghamshire has been completed.
The nine-month project added a two-storey building at the rear of the existing Foresters House, in Toton.
The expansion is part of a bigger £1.8bn investment to improve facilities for reservists across the country over the next 10 years, a spokesman said.
The work will allow the reservists to move into the training centre along with army reservists.
The marine and navy reservists from Nottinghamshire, who were previously based at facilities in Chalfont Drive in Nottingham, have served in Afghanistan and during the 2012 Olympics.
A re-dedication parade was held to mark the arrival of the reservists.
Commander Martin Clegg of HMS Sherwood said: "We currently have 76 reservists at HMS Sherwood, but we are currently actively recruiting throughout the East Midlands and our aim is to increase our numbers by at least 50% over the next few years."