New £6.6m cystic fibrosis unit opens in Nottingham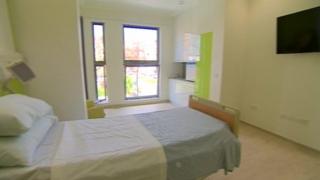 A new £6.6m centre for cystic fibrosis patients and their families has been opened at Nottingham City Hospital.
The Wolfson Cystic Fibrosis Centre can accommodate up to 250 patients from across Nottinghamshire and its surrounding counties.
The aim of the centre is to help patients, who often have to spend weeks or months in hospital, to feel at home while they are being treated.
The centre has hotel-style rooms, with space for families to stay together.
People with cystic fibrosis (CF) often have to undergo a rigorous daily regime of treatments to stay healthy.
As exercise is key for CF patients - it is a genetic disorder which causes thick secretions in the lungs, inhibiting breathing - a gym with glassed-in pods has been built to prevent cross-infection between patients.
'Transforming treatment'
The centre, which also includes a kitchen zone, ICT zone and video conferencing, so patients can keep in touch easily with friends and family, took about a year to build.
Caroline Spencer, a CF patient, said: "With the video conferencing, you can talk to the person next door because cross-infection is a big issue, we cannot mix.
"Being able to give each other that support - because in this room you're lonely - it can help pass the time."
Peter Homa, chief executive of Nottingham University Hospitals Trust, added: "The new unit will completely transform the treatment of CF patients and will create a home in hospital.
"Patients can not only receive all the treatment they need in one place but also feel comfortable and at home during the long periods of time they spend in hospital."
The Nottingham Hospitals Charity contributed £2.1m to the project, with the rest coming directly from the NHS.