In pictures: Richard Whitehead's marathon quest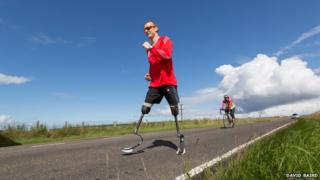 An exhibition showing Paralympic gold medallist Richard Whitehead as he completed 40 marathons in 40 days has started.
The Nottinghamshire athlete, who is a double amputee, set off from John O' Groats in August, covering 977 miles before finishing in Land's End.
Over the 40 days Whitehead, and members of the public who ran with him, raised more than £350,000 for charities Sarcoma UK and Scope.
The exhibition is being held at the Antenna Media Centre, Nottingham.
It features previously unseen photographs by David Baird, and runs until 11 April.
Whitehead won a gold medal in the 200m T42 athletics event, with a world record time of 24.38 seconds, at the London 2012 Paralympics.
He also won gold at the 2011 IPC World Championships in Christchurch in the same event.
Whitehead said he had been inspired to take up the challenge by Terry Fox, an amputee who has sarcoma cancer, who attempted to run across Canada in 1980.
He said: "Unfortunately he didn't reach his destination but he inspired me to start running myself and after success at the Paralympics I got this once-in-a-lifetime opportunity up and going."
Before his challenge, Whitehead said he had wanted to reach out to people of all ages and abilities and encourage people into sport as part of the legacy of the Olympics and Paralympics.
By the end of the challenge, he had covered 977 miles (1,572km), and visited 14 towns and cities, including his home county city of Nottingham.