A614 at Bilsthorpe: Improvements to be made to fatal crash junction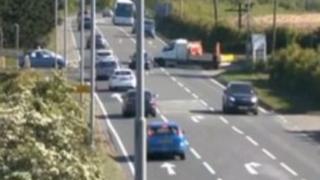 A junction where several people have died is to have thousands of pounds of improvements made to it, after residents filmed the traffic problems.
Measures will be taken to stop cars from overtaking on the Mickledale Lane junction on the A614 at Bilsthorpe and to make it safer to cross, Nottinghamshire County Council said.
It is part of £7m of road improvements across the county.
Six people died in a crash there in 2011.
The council said the improvements, estimated to cost between £50,000 and £100,000, are likely to include a new footway, new lines and hatching and new pedestrian refuge islands.
Previous improvements have included dropping the speed limit to 50mph and installing average speed cameras on the stretch between the A60 and A616 roundabouts.
Residents made a film about the junction last year.