Anthony Nolan starts Nottingham umbilical cord donation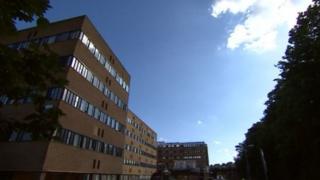 Two umbilical cord collection centres have opened in Nottingham to harvest lifesaving stem cells.
Charity Anthony Nolan has opened the units at Queen's Medical Centre and Nottingham City Hospital.
Blood from the umbilical cord and placenta, which has a high number of stem cells, is frozen and stored by the charity.
Stem cells are then used to treat sufferers of blood-cancers such as leukaemia.
Penny Cole, midwife supervisor for the cord blood collection programme in Nottingham, said: "Many pregnant women are surprised to find out it's so simple to donate their cord blood and it doesn't affect the birth of their baby at all.
"In fact, most women say they hardly even know we're there and that it can make their day even more special in the knowledge that their newborn baby could be giving someone else a chance of life."
Sarah Hancox, 27, is due to give birth to her first child in April and plans to donate the umbilical cord.
"It's such a simple but amazing thing to be able to do for someone in desperate need," she said.
The Anthony Nolan charity currently collects donated umbilical cords in London, Birmingham, Leicester and now Nottingham while mothers can make a donation to the NHS in London, Luton and Watford.