Police make arrest over racist football-related tweet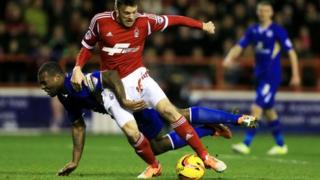 An 18-year-old man has been arrested on suspicion of a posting a racially aggravated tweet prior to a Nottingham Forest and Leicester City match.
The message, allegedly directed at Leicester City fans, was posted on Twitter despite an earlier police warning about racist behaviour.
Wednesday's Championship match at the City Ground ended in a 2-2 draw.
Nottinghamshire Police investigated alleged racist chanting at a match between the teams in 2012.
In the 2012 investigation, officers looked into a complaint against Forest fans who chanted, "You used to be English, you're not any more", during a goalless FA Cup draw against Leicester City.