West Bridgford deaths: Family 'couldn't cope' without each other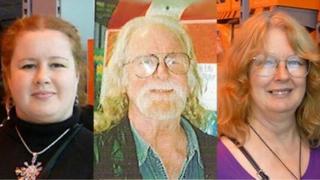 Three members of the same family died after they "couldn't cope" without each other, an inquest has heard.
Pauline Barker, 56, was found drowned in the River Trent in Nottinghamshire on 15 April 2012.
Eleven days later her partner Archie McKelvie, 64, and their daughter Corrin Barker, 31, were found shot dead at a house in North Road, West Bridgford.
The inquest heard a note found on Pauline Barker read: "Got anxiety, depression, no energy left."
Giving evidence, her brother, Alec Barker said he had "half expected this to happen" to his sister. He said she had self-harmed before and had spoken about jumping into the river.
The bodies of Mr McKelvie and Corrin Barker were discovered by police after they went to the house for help to identify Pauline Barker's body.
Their daughter, who also had depression and learning difficulties, had suffered a gun shot wound to the back.
Mr McKelvie, described as an "extrovert" and a "loveable rogue", had a single gunshot wound to his head.
Coroner Mairin Casey said he had "left communication suggesting they believed Pauline had been found in the river and they wouldn't be able to cope with the fact she was dead".
The inquest is expected to conclude on Friday.