Joel Picker-Spence legacy: Donor hopes to save cancer patient's life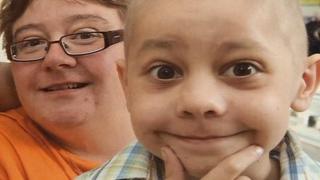 A man who joined the bone marrow register in memory of a six-year-old boy who died of leukaemia is hoping to save a cancer patient's life.
More than 120 people registered at the 'Join for Joel' event in June 2010, but Alan Fisher is the first to donate his bone marrow to a cancer patient.
The mother of Joel Picker-Spence, who died in 2008, organised the event.
It was supported by BBC Radio Nottingham and Mr Fisher heard about it while driving to work.
He had been enjoying listening to "moving and courageous" Joel being interviewed on the radio, without realising that Joel had since died.
"It hadn't occurred to me at the time, until I got to work pretty much, that Joel hadn't made it," he said.
"It was doubly moving at that moment, and because the event was that day I made sure I was there."
Match found too late
A "perfect" bone marrow match was found for Joel, from Farndon in Nottinghamshire, shortly before he died.
However Joel was too unwell to have the transplant.
After giving a sample of saliva at the Join for Joel event, Mr Fisher was then approached to give blood samples, and was later told that he was a match for a patient.
The patient responded to other treatment so Mr Fisher did not need to donate, but the patient has since had a relapse.
Mr Fisher, a 35-year-old data analyst from Gedling, is due to have the procedure later on Thursday.
He urged other people to join the bone marrow register by visiting the Anthony Nolan or Delete Blood Cancer websites.
"It's not going to cause any lasting damage to me and somebody else gets an opportunity to carry on living, so it's a pretty small price to pay I think," said Mr Fisher.