Snack vans near Nottingham schools could be banned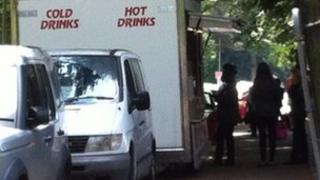 Fizzy drinks and sweets vendors could be banned from selling on streets around Nottingham schools.
Ellis Guilford School raised concerns with the city council after a man in a van was seen selling "unhealthy snacks" to students at the school gates.
Head teacher Sally Coulton said that as well as fears over obesity, she was worried about road safety and litter.
Vendors would have to apply for permission to sell around three schools if council plans are voted through.
Ms Coulton said children have been "queuing into the road" to buy confectionery, including high energy drinks, from the back of a van as they arrived for school in the morning and left in the afternoon.
'Huge problem'
Ellis Guilford was awarded "healthy school status" in 2007.
"We have a huge problem with childhood obesity in this country," she said.
"We want to encourage young people to make healthy food choices and this goes against that.
"This has been a major issue for us for a number of years. Enough is enough."
Nottingham City Council's regulatory and appeals committee is set to vote on Monday on whether to change the designation of some roads around Ellis Guilford School, Bulwell Academy and The Trinity School.
In a report the council said that designating the roads as "consent" streets would give it "some control of the types of street trading allowed".
A "consent" street is a road where street trading is banned without the council's permission.