Queen's Medical Centre patient waited hours for prescription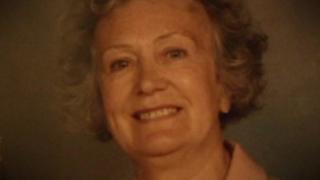 An 83-year-old woman had to wait 12 hours for a prescription after being discharged from hospital - because staff lost her file.
Joyce Rowbottom was left waiting in a side room at the Queen's Medical Centre in Nottingham for more than six hours.
The medication was eventually delivered by a taxi at 22:00 GMT, after her daughter-in-law had taken her home.
The hospital has apologised for the delay and said it would call her to discuss her concerns directly.
Ann McGowan, Ms Rowbottom's daughter-in-law, said: "It shouldn't happen and they clearly need to change the system."
The great-grandmother had been taken to hospital last week with severe abdominal pains, and was discharged four days later.