Emiel Blankert death: Woman held on suspicion of murder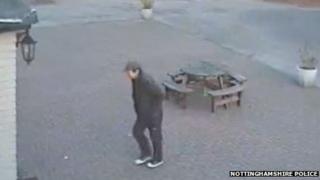 A 48-year-old woman has been arrested on suspicion of murdering a Dutchman who died after an attack.
Emiel Blankert, 48, originally from the Netherlands, died on Friday, five days after admitting himself to King's Mill Hospital in Nottinghamshire.
A post-mortem examination confirmed he suffered serious injuries as a result of a sustained assault.
Police have released CCTV footage of Mr Blankert in the Ladybrook area after he was assaulted on 9 December.
Det Ch Insp Tony Heydon, of Nottinghamshire Police, said: "We believe that Emiel would have had several injuries at the time this camera picked him up but it essential that people look at this and think back to last Monday.
"We are continuing to focus on Emiel's movements on Monday afternoon in the vicinity of his home in Ladybrook."
A woman, 27, and a 21-year-old man were arrested last week and remain on bail.