Glen Kitchen death: Jadon Jackson, 16, guilty of manslaughter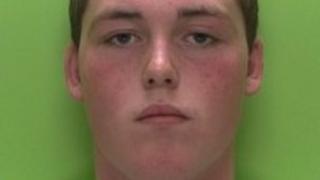 A teenager has been convicted of manslaughter following a street assault in which a 40-year-old Nottinghamshire man died.
Glen Kitchens, 40, was attacked in Bridge Street in Worksop in April and died later in hospital.
Jadon Jackson denied unlawfully killing Mr Kitchens throughout his trial but was convicted by a jury at Nottingham Crown Court on Thursday.
The 16-year-old, from Victoria Road, will be sentenced later this month.
'Never understand'
During the trial, the jury heard Mr Kitchens encountered Jackson and several of his friends on his way into town.
He had called his friends to say he was having some trouble with a group of youths.
But as they came to meet him one of the youths punched Mr Kitchens.
Det Insp Rob McKinnell, who led the investigation, said: "In one moment Glen Kitchens was alive and well, and in the next, after one punch was thrown, he was dead.
"Glen's family will never know why this 16-year-old boy threw that punch and they will certainly never be able to understand why."
He added that he hoped the case would at least make people think about the possible consequences of their actions.