Nottingham Gatecrasher club knifings suspects charged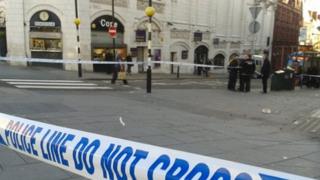 Two men have been charged after three people suffered knife injuries during a fight involving up to 20 people outside a Nottingham nightclub.
The incident happened in the early hours of Sunday, outside Gatecrasher in Queen Street.
Three people were treated in hospital for knife injuries, all of whom have now been discharged.
The men, aged 22 and 23, are accused wounding and affray and are due before magistrates on Tuesday.
An 18-year-old man arrested at the scene is still being questioned.
In a related incident a pedestrian, who sustained minor injuries after being struck in Upper Parliament Street, went to hospital as a precaution.
A 23-year-old man has been charged with dangerous driving, failing to stop at the scene of an accident and failing to provide a sample of breath at a police station.
He has been bailed to appear before magistrates on 8 November.