Newark council asks for views on new travellers sites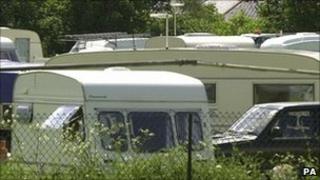 The public's views on where new traveller sites should be built are being sought by a Nottinghamshire council.
Newark and Sherwood District Council has published a report into how many permanent sites are required in the area in the next 15 years.
The district was recognised as having the highest traveller population in the county in the last census.
Members of the travellers community in the area have welcomed the move.
Suitable locations
There are currently two privately owned permanent travellers sites in the area - Tolney Lane in Newark, which houses 500 to 800 people, and Shannon Falls in Ollerton.
The report from the local authority has outlined that more housing is needed and that the site in Newark needed examining because of an increased risk of flooding and access issues.
The site had to be evacuated last November because of rising water levels.
Council leader Roger Blaney said: "It is very important that the council puts in place planning policy on this matter to ensure that we have enough Gypsy and Traveller sites in the most suitable locations."
The council said the consultation would ensure travellers were given fair and equal treatment with sites that facilitate their needs, and hoped to create the new sites by 2026.
Vicky Botton, former chairwoman of the East Nottinghamshire Traveller Association, who lives on the Tolney Lane site, said illegal encampments could be avoided by establishing more permanent sites.
"It's a long time coming. They should have at least two or three small sites in this area," she said.
She added that issues of mess being left behind could also be avoided if there were sites with appropriate facilities such as toilets and bins.
The consultation ends on 28 October.