Flooded Nottinghamshire residents braced for heavy rain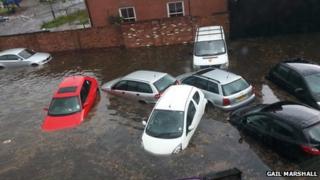 Residents in Nottinghamshire hit by flash floods earlier this week are bracing themselves for more heavy rain forecast over the weekend.
About 100 homes were hit by flooding in Southwell when 3in (7cm) of rain fell in two hours on Tuesday evening.
Emergency planners at Nottinghamshire County Council said more than 2,000 sandbags were ready and waiting to be distributed across the region.
The Met Office warned surface water could cause more flooding.
Help for 'vulnerable'
Deborah Hinde, from the county council's emergency planning team, said Southwell had received more sandbags on Saturday morning and deliveries would be made to other areas at risk.
"Our priority is to help the elderly and vulnerable in their homes and we would encourage residents to take reasonable actions to make sure they are prepared," she said.
After Tuesday night's heavy rainfall, emergency services in the county said they had been inundated with calls.
On Mansfield Road in Nottingham some cars were left stranded and in Sherwood one woman was trapped in her vehicle after it became stuck in a manhole.
Flood water also affected the corridors at Nottingham City Hospital, prompting a call for visitors to stay away for the night.
The rain is expected to start on Saturday afternoon, turning heavier in the evening, the Met Office said.