Trent Bridge Ashes Test 'worth more than £30m to East Midlands region'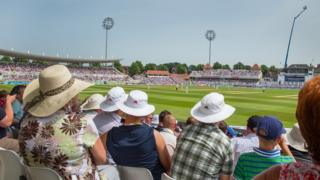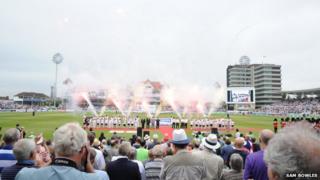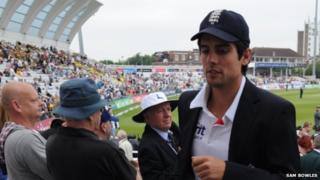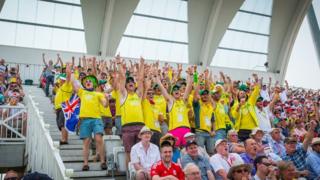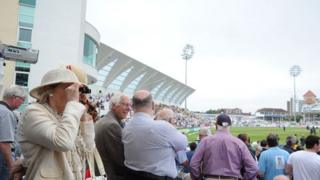 Nottinghamshire County Cricket Club believes the recent Ashes Test match at Trent Bridge was worth "at least" £30m to the East Midlands' economy.
The match, which ran from 10-14 July, attracted sell-out crowds and is viewed by organisers as the most successful Test ever staged at the ground.
Nottingham hoteliers reported they had done more than a month's worth of business in a week.
The ground will next host an Ashes Test match in 2015.
'Unblemished weather'
Michael Temple, head of marketing and communications at Trent Bridge, claimed forecasts had suggested the match would bring £30m to the area.
"I wouldn't be surprised if we have eclipsed that," he said
"It was the most successful Test ever staged at Trent Bridge, thanks to the quality of the cricket and the unblemished weather.
"We have spoken to hoteliers who did a month's worth of business in a week."
Nottinghamshire's income was boosted by the match running to five days, which saved the club refunding £225,000 to those who had bought tickets for the final day.
Added to that was Trent Bridge's increased capacity since it last staged an Ashes test in 2005, from 15,500 to 17,000.
But, Mr Temple said, the uplift in sales had to be balanced against an increased cost of bidding for the package of matches, which includes India in 2014 and an Ashes Test in 2015.
'In the spotlight'
"We have an ambition to raise the capacity to 19,000 and improve the internal look of the pavilion," he said. "We hope staging games like this can help those ambitions."
West Bridgford hotelier Andy Gray said: "About half our customers were Australian and several more Australians are planning a visit over the summer so we're being helped by word-of-mouth."
George Cowcher, chief executive of the Derbyshire and Nottinghamshire Chamber of Commerce, said: "Estimates suggest hosting the Ashes - and other internationals at Trent Bridge - will unlock wider economic benefits of around £35m.
"The Ashes is a huge, iconic, world-famous event which has not only attracted worldwide media attention and put Nottingham in the spotlight, but has also bought thousands of cricket fans into the city to spend their money in local hotels, bars, restaurants and shops."
The success was good news for the cricket ground, which missed out on landing the Ashes in 2009.
Since then, Mr Temple said the England and Wales Cricket Board (ECB) had changed its bidding process, paying more regard to factors such as community engagement and spectator experience.
An ECB spokesperson said: "We would like to congratulate Trent Bridge on the way it staged the Test match. The atmosphere was tremendous and it was a fantastic advertisement for the five-day game."
Trent Bridge will start bidding on the next package of matches - to be staged after 2017 - in 2014.
They will release their official financial report in September.