Bug swarm forces Netherfield McDonald's restaurant to close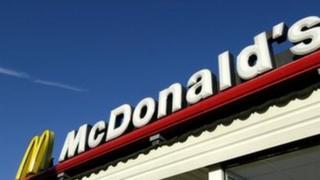 The franchise owner of a McDonald's fast food restaurant says he has lost £15,000 in a month because of swarming insects invading his premises.
Jerry Nicholls, who runs the restaurant in Victoria Retail Park in Netherfield, Nottinghamshire, says he has to shut the doors at 21:00 to stop the bugs.
Midges and greenfly have been attracted by the lights and swarmed in the dining area, Mr Nicholls said.
The recent warm weather means flying insects are thriving.
Dr Christopher Terrell-Nield, Nottingham Trent University's principal lecturer in biosciences said earlier wet weather had delayed some bugs' development but recent warm weather had speeded it up.
Short-term swarms
"It is perfect conditions for them to come out in large numbers," he said.
"The dry weather is perfect for flying insects - crane flies, butterflies, all sorts.
"Nobody knows quite why they swarm like this but it's only a short-term thing. They only last a couple of weeks before they die off."
Mr Nicholls said he had been left with no choice but to shut the 24-hour restaurant at certain times to stop the insects flying in.
"About a month ago, a swarm of greenfly and midges got into the dining area and we had to shut the restaurant.
"They landed on just about everything in the dining area. We don't want little green flies buzzing around while customers are trying to eat.
"We have been talking to experts but I've had no suggestions of how to stop the insects getting in.
"Now we shut the indoor dining area at 21:00 BST before it gets dark and open again at 05:00 BST.
"We've mostly kept the drive-through open but sometimes we have to shut that too as the bugs are attracted by the lights and get in through the window."
Mr Nicholls said he hoped normal opening hours at the restaurant would resume shortly.