Nottinghamshire school bus pass scheme to be 'scrapped'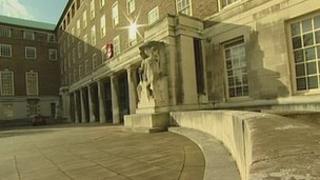 Nottinghamshire County Council said it wants to scrap a programme which gives free bus passes to some schoolchildren.
The Discretionary Travel Scheme entitles secondary pupils that prefer a school out of their catchment area to free bus journeys.
The Labour-led council said the scheme, which was introduced by the previous Conservative administration, was "financially unsustainable".
The Tory opposition said it was "a spiteful move".
'Badly costed'
Councillor John Peck, the council's chairman for children and young people, said: "Having this scheme in place has had no measurable impact on parents' choice of school for their children.
"The scheme is exclusive, has been badly costed and, in the current economic climate, is financially unsustainable."
The Conservative opposition councillor Philip Owen said: "It is disappointing, but not surprising, that one of Labour's first moves in office is to propose withdrawing the Conservatives' free travel scheme which helps a number of pupils attend the school of their choice."
The council has claimed discontinuing the scheme from September 2014 could save £1.7m by 2017-18.
Pupils currently participating in the scheme would continue to do so until the end of their statutory education at 16-years-old, the authority confirmed.
It added that the plans would not affect any statutory entitlement to free school transport.
A four-week consultation into the proposals is subject to approval at a council meeting.