Shipstones' beer set to make comeback in home town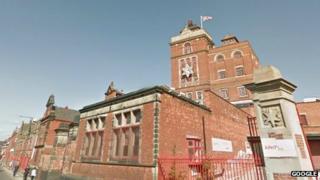 A beer first produced by a Nottingham family more than 150 years ago is to be brewed again after a 22 year hiatus.
Shipstones opened in New Basford in the mid-19th Century and it remained in family hands until 1978. The brewery closed in 1991.
Beer and heritage fan Richard Neale has bought the rights to the name after researching the history of the company.
He said "it was possibly a mid-life crisis but I thought the time was right to bring it back".
Shipstones Brewery was established by James Shipstone in 1852. It became a city landmark and was known locally as the Star because of the emblem on top of its tower.
A pint of heritage
Mr Neale first became interested in the old brewery as a child. He said he used to pass it on the way to school and often thought about the people who worked there.
He added it was one of the city's biggest employers and everyone he spoke to had a story to tell about Shipstones.
"Their first pint, their dad taking them to the pub - we lost a lot when it closed and I really wanted to bring it back," said Mr Neale.
"The market for real beers is on the up - people want something different, local and with heritage."
Mr Neale has also joined forces with a former brewer at Shipstones to ensure the recipe remains authentic.
Colin Brown set up Belvoir Brewery in 1995 and has some of the original Shipstones' equipment.
He said of his time at the old brewery: "A lot of people worked there all their lives.
"Not long before we closed we did a long service award for a chap who had worked there for 50 years - he never had a day off in all that time.
"That was the kind of person who worked at the brewery - it was their whole life."
If successful, the pair said they might consider bringing back other traditional ales - although brewing cannot take place on the former Shipstones' site because of restrictions imposed on its use.