Nottinghamshire Fire Service proposes more cuts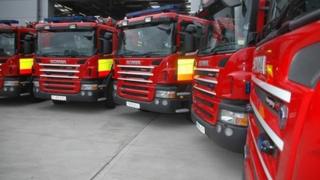 Two fire engines could be cut from Nottinghamshire Fire Service in a bid to save £700,000 a year, under plans by the fire service authority.
Engines at West Bridgford and Arnold would be shelved and some employees re-deployed under the proposals.
The fire authority faces a £1.8m deficit in the 2014-15 financial year.
Phil Coates, of the Fire Brigades Union, said the news was unwelcome coming on top of widespread changes already made to the organisation.
"It is not good - budgets are being hit," he said.
"We have fought long and hard to save appliances... but the budgetary pressures are such that something has got to give.
"Every cut on frontline service affects us. It is a shame that we could not secure a small rise on council tax, only two or three pence to a Band D property, but unfortunately it did not get voted through."
'Low risk'
The West Bridgford engine is currently only staffed during the day and the engine in Arnold is operated by retained firefighters.
The service is expected to face a £4.5m deficit in 2015/16.
A report into the shortfall by the chief fire officer, Frank Swann, recommended cutting the total fleet.
Mr Swann said any risk to the public as a result of the changes would be "low".
He said the number of fires had fallen to 10,323 in 2012, from 13,112 in 2011 and 15,665 in 2008, but attributed this to the service's fire prevention work.
"We have to find a way of covering the deficit," he said. "Our grant has dropped considerably. We've probably lost about 20% of our operating budget over a four to five year period.
"At the moment, the stations at West Bridgford and Arnold have two engines. The savings from removing one of those at each station will equate to £700,000. That's quite a significant step towards the £1.8m.
Public consultation
"It will still leave us nine full-time appliances within the conurbation so we're pretty confident it won't put the public at risk.
"There is a balance to be struck and we think we're about right with these first proposals."
A report recommending the cuts said support appliances would be available from Stockhill, Central and Carlton stations.
A full consultation will be carried out with the community and staff on the plans.
In earlier cuts to the fire service, five retained fire engines were scrapped, and more than a dozen management jobs lost.
The savings were part of a major staffing review which followed the release of a report that showed the service received 35% fewer emergency calls than it did a decade ago.