Nottingham 'pants' robbers caught on CCTV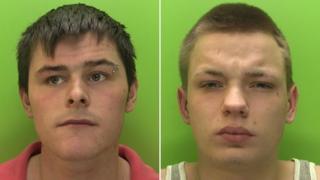 Two young men who bragged about robbing a newsagents were caught after their distinctive underwear was spotted on CCTV.
Reece Winfield, 18, of Top Valley, Nottingham and Corey Hobson, 17, of no fixed abode, robbed cigarettes and alcohol from Ling Forest newsagents.
CCTV footage captured their underpants showing above their low-slung trousers, which they were still wearing two days later when arrested in February.
Both men were detained for 36 months.
Hobson and Winfield were both sentenced to 32 months for robbery and four months for attempted arson on Thursday after pleading guilty at an earlier hearing at Nottingham Crown Court.
Det Sgt Phil Sims from Nottinghamshire Police, said the pair had made it "very easy" for officers to track them down.
"In the end, you could say they were well and truly caught with their pants down.
"They obviously thought it was funny to brag about their crime, sparing no thought for their victim, who they left battered and bruised and counting the cost of their theft and damage."
After making comments about the robbery on social media site Facebook, the pair also filmed themselves lighting and throwing a homemade petrol bomb into a Nottingham street, police said.
Detectives found the video on Winfield's phone.
Insp Andy Goodall added: "The fact they filmed their exploits and laughed at the bang suggests they were pretty happy with themselves.
"I doubt they are laughing now."
Both men were also ordered to pay £120 compensation to their victim.