Newark house blast: Question mark over other houses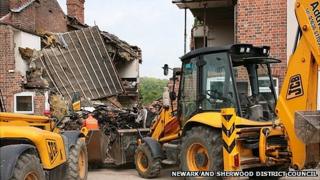 Two houses damaged by a suspected gas explosion that killed two people are unlikely to be reoccupied soon.
Leslie Rourke, 71, and daughter-in-law, Jeanette Rourke, 40, died in the blast in Wright Street, Newark, Nottinghamshire, on 19 May.
Two houses either side are being demolished but two others will require further surveys before a final decision is made, the local council said.
An appeal by nearby residents has raised £2,000 for those affected.
Four other people were injured in the explosion, including Mrs Rourke's husband Nick.
Evacuation
Police have completed their forensic examination of the area and, while emphasising the investigation is ongoing, have confirmed the mains gas supply was not the cause.
Officers have also confirmed DIY work at the property is one of their lines of inquiry.
About 100 people were evacuated from their homes in the aftermath of the explosion but most were allowed to return within hours.
One household was allowed to return over the weekend but five others, including the one destroyed in the blast, have not been reoccupied.
Three are in the process of being cleared completely.
Community appeal
A spokesman for Newark and Sherwood District Council said: "Risk assessment and condition surveys are also required on two other properties with further works needed before they can be reoccupied.
"In the meantime these have been structurally stabilised. Residents are not expected to return for some time."
Over the weekend a table-top sale was held in a nearby church to help families forced to leave their homes.
Organiser Kirsty Allen said: "It was brilliant. Lots of people turned up and lots of people donated.
"We raised £1,999. 25p - which was rounded up - which will be distributed through the church to those who need it the most."