Newark house blast: Homes being demolished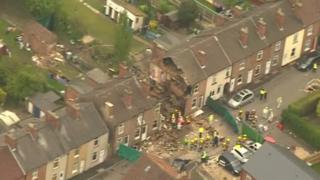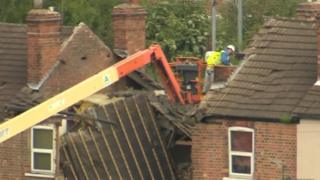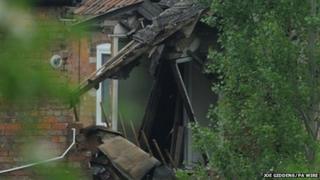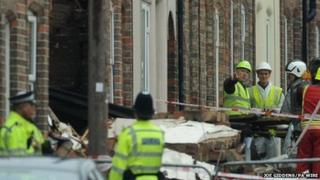 Two houses are being demolished after an explosion which killed two people at a terraced house in Nottinghamshire, emergency planners said.
The victims, named locally as Leslie Rourke, 71, and his daughter-in-law, Jeanette Rourke, 40, died in the blast in Wright Street, Newark, on Sunday.
The district council said demolition work was being carried out on houses either side of the property.
Structural engineers will then assess three other neighbouring properties.
Four other people were injured in the explosion, including Mrs Rourke's husband Nick, who remains in a serious condition in hospital.
'Rallying round'
A woman and two children from the neighbouring property were taken to hospital but later discharged.
Up to 100 people had to leave their homes after the blast on Sunday evening and 30 people were still unable to return home on Tuesday.
Rob Fisher, from the county council, said: "What we're doing today is working with those residents to see if we can get them back into their homes as far as possible."
Many people were allowed back to Wright Street to retrieve belongings with a police escort on Monday, Mr Fisher said.
Newark MP Patrick Mercer spoke to residents in the aftermath of the blast.
"The community has closed in very quickly to support those who have been injured, hurt and of course frightened," he said.
"Local churches have been absolutely superb and I must take my hat off to the emergency services, fire and ambulance were here within minutes."
The Charles Street Methodist Church has been turned into a drop-in centre for residents.
People have left donations including bedding, toys, toiletries and electrical items for those affected.
The Reverend Philip Macdonald said: "I think in situations like this everyone feels quite helpless really and obviously people are in a state of shock.
"Everyone is rallying round and doing whatever they can."
Jenny Samuels, 29, who lives near the blast site, said she had raised more than £600 to help those affected through an online donation site.
"I thought setting up this page would help a lot of people," she said.
"It's shaken everybody an awful lot. Everyone's struggling for money at the moment but people are managing to find a bit to put towards this to help these families which is absolutely fantastic."
Police said they were keeping an open mind about the cause of the blast but were looking at the possibility that it was caused by a family member doing DIY in the home.